Every year, millions of people invest in braces & other teeth straightening technology to perfect their smiles.
Teeth crowding, increased overbite(deepbite),open bite(underbite), speech problems, spaces between the teeth, jaw problems, malaligned teeth & smile improvement are the common reasons to get a straight teeth with braces. For a very few select lucky individuals, teeth just develop into the ideal places without malalignment and for most of others, dental braces are required. Of course, traditional or modern Dental Clinic Near Me for Braces help re-adjust teeth into correct positions, leading to straight teeth, a great smile & better overall oral health for a lifetime. Kids ,Teens or Adults – Age is not a barrier if you are striving for a dazzling smile. Braces are a perfect means to straighten your teeth at any age. Let's take a look into the types of braces for your teeth with Dental Excellence.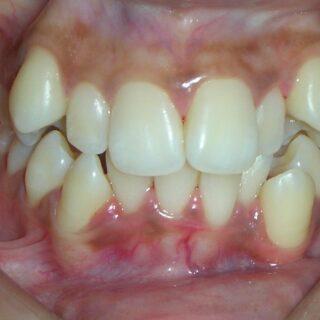 1 .Metal Braces
The most common type of braces are metal braces .These are easy to clean and comfortable to kids and adults. Very effective in correcting your smile and bite issues. They have a disadvantage of being visible as they are made up of metal.
2.Ceramic Braces
Ceramic braces are clear braces and are a more covert alternative to metal braces . They employ tooth-colored wires attached to translucent tooth colored brackets that match the front of your teeth. With ceramic braces, most people even won't realize you are wearing them. This makes them, a popular choice among older teenagers & adults who didn't have the opportunity to undergo aligning treatment when they were younger.
3.Aligners/ Invisalign
Invisalign aligners are a popular treatment choice for adults & teens who want to improve their smile without the need for metal braces. Nowadays, Invisalign or other aligners are a popular option for those looking to get a straighter smile discreetly. Aligners are removable , most comfortable and allow to maintain your daily routines like before. You can take them out temporarily to clean & eat foods that are not always braces-friendly.
4.Lingual Braces
To make them less noticeable, lingual braces are essentially metallic braces attached to back of the teeth. Since lingual braces are positioned at the back of the teeth, they are less noticeable and are less likely to break than regular braces but require good effort to maintain oral hygiene.
In other words, lingual braces are a fantastic tool for straightening teeth and providing discretion.
5.Self-Ligating Braces(Metal/Ceramic) / Damon Braces
These advanced braces don't require elastomeric rings or ligature wires to attach to the archwires, which is why they are known by the term 'self-ligating." Self-ligating braces have the benefit of having less friction thus faster teeth movement , are less obvious ,more comfortable ,provide ease of maintaining oral hygiene and pose less dental emergencies.
Know the Signs Your Child Needs Braces
1.Teeth forwardly placed or protrude out
2.Bottom teeth overlap top teeth
3.Bottom & top front teeth don't touch
4.Habits like mouth breathing ,tongue thrusting ,thumb sucking etc.
5.Misaligned teeth /malaligned teeth
6.Too much space between the teeth
7.Trouble chewing or biting
8.Speech problems
9.Crowding/crooked teeth
10.Jaws discrepancy/Mismatch between upper & lower jaws
The best age for children to get braces varies from child to child. Your child's first orthodontic check up should be done at the age of 7 years to help patients who require early intervention for certain problems. Typically, orthodontic treatment starts when a child is between 8 & 14 years old .
If you are not sure whether your child requires braces, book your consultation with the Best braces Doctor – Dr. Garima Goyal (Gold Medalist)having a high level of education, and training. Our highly experienced in-house orthodontist in Mohali offers high-quality care to your children.
A Healthy Smile Can Be Achieved with Braces
Your teeth will be adjusted while you wear braces, improving your long-term health and wellbeing. As your teeth become aligned properly with orthodontic treatment, brushing & flossing becomes easy and more effective, making you less prone to tooth decay & gum disease. All you need is to choose the best orthodontist/orthodontic clinic in Chandigarh or Dental Clinic for Braces in Mohali- Dr. Garima Goyal to transform your smile with braces /aligners.