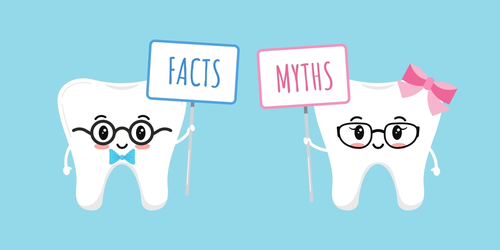 Have you grown weary of hearing how "brushing, flossing, and rinsing may keep your teeth problem free"?But do you think, they are sufficient? No!! Apart from these daily oral hygiene rituals, there are several dental hygiene practices one should follow for healthy gums and teeth. Let's take a quick look at few dental myths & facts, with Dental Clinic Mohali or Dental Excellence.
Myth 1:
Excess Consumption of Sugar only can Cause Cavity & Tooth Decay
Fact:
The actual fact is that sugar is one of the contributors to the formation of cavities in addition to poor oral hygiene, mal-positioned teeth etc but yes, frequent consumption of pasta, bread, sodas, chewing gum, chips & sticky food like chocolates etc can also erode your tooth enamel & lead to cavities.
Myth 2:
Brushing Harder Can Make My Teeth More White
Fact:
Brushing too much, too frequently & harder can cause abrasion of the outmost layer of the teeth, the enamel. So, brush gently with a soft bristle brush & twice a day.
Myth 3:-
Tooth Brush Should Be Changed Only After Its Appearance Damaged
Fact:-
Your toothbrush may contain bacteria, don't trust its appearance too much. Store it in the proper or clean space & make a habit to change your toothbrush or brush head every 3 months.
Myth 4:-
Chewing Sugar-free Gum Also Works Like Brushing
Fact:-
Nothing can replace brushing as both brushing & flossing remove plaque from all surfaces of your teeth properly. Merely chewing sugar-free chewing gum might encourage saliva production which helps wash away the acids from foods, drinks, etc.
Myth 5:-
We Can Skip the Flossing
Fact:-
This is not true, not using dental floss means not cleaning 35% of your teeth surfaces.
In addition to lowering the risk of cavities, gum pain and ugly redness of the gums, flossing aids in removing food debris and plaque from hard-to-reach places including in between teeth and around the gum line.
Get Clarity from Dental Excellence
Everyone deserves dental health awareness, friendly service, and affordable & quality dental care, for this, consider Dental Excellence, which is the one-stop solution for all dental treatments. At Dental Excellence, both Dr. Sachin Goyal & Garima Goyal are trained in the latest techniques & the newest technology to handle all of your family's dental care needs. Dental Clinic in Mohali offers a comprehensive suite of preventive, cosmetic, restorative & reconstructive services for all ages.
Dental Excellence thinks that better informed people are better able to make decisions about their health and well-being. That is why, we like to provide extensive or detailed explanations covering the full array of topics associated with dental hygiene, root canal therapy, dental implants, teeth whitening, veneers, Braces Invisalign & other dental services to our patients. We use state-of-the-art equipment to ensure the health & safety of our patients.